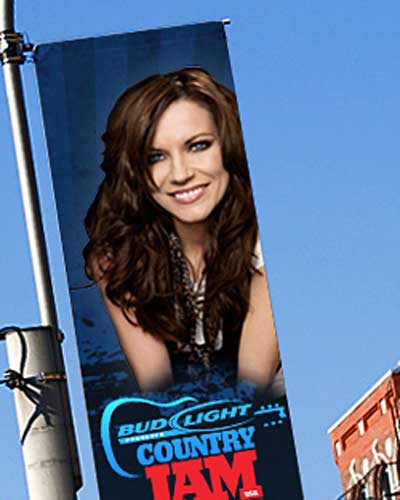 Banners always get the point across whether it's to announce a sale or a grand opening.
Banners can provide quick, cost-effective advertising. A banner may be temporary, and suitable for outdoor or indoor use. Or, it may be of premium quality, designed to stand up to long-term outdoor use.
Our colorful banners are a very effective and affordable signage option. A banner provides a flexible, portable way to put your message in many places. The versatility of our full color banners, whether displayed horizontally, vertically, indoors or out, make them the ideal choice for just about any message you wish to convey.
Retractable banners are the best product option if you are looking for a portable banner that can be displayed indoors and outdoors. They are easy to set up and take down and are light enough to carry in a bag. Many businesses design custom retractable banners with their brand or logo and exhibit them at large events like trade shows, promotional events, and job fairs. Retractable banners are also commonly found in business lobbies, showcasing new products or services to the interested people walking by.
Banners are excellent at attracting the attention in passerby in towns and cities. They can easily be spotted from the road and sidewalk and are a family friendly advertising method.
Common Banner Types
Sail Banners
Feather Flags
Textile Banners & Flags
PVC Banners
Teardrop Banners
Roller Banners
Parabola Banners
Pop Up Banners
Barrier Banners